"Our fav gipsies Are back, champs of their own league"
Review written by Butch
Any 90s hard rock will remember precisely where he or she was (like with Bambi´s death) when the bomb that meant A BIT OF WHAT YOU FANCY exploded. A stylish shotgun mixing hard rock, blues, sleaze, glam, y a gipsy out of an eternal pub party looks as seen in Spike, the peculiar voice lead singer. It seemed as if ROD STEWART or FACES melted with the then hottest and dirtiest GUNS N ROSES to take you on an eternal sex, alcohol and party night. Their style surely rocked, but on top of that the songs turned out to be flat out hits.  Flawless rock and roll hymns like SEX PARTY, 7 O'CLOCK, o mid tempos like SWEET MARY ANN (Not many times I have listened to such a perfect and beautiful gem). They placed their ballad as they should, and guess what, another beauty, titled I DON´T LOVE YOU ANYMORE, and the expected outcome was a massive bomb in our face.
They got 4 hit singles out of that debut record. The time came to land in the US, and as "God walks mysterious ways" as the Bible and Bono (U2) will remind us, the utterly unexpected happened; Copyright problems renamed them THE LONDON QUIREBOYS and on top of that a remarkably similar band hit the charts with a tremendous success with HARD TO HANDLE o SHE TALKS TO ANGELS. And America, yes, due to THE BLACK CROWES, forgot about our favorite gipsies. It has happened quite often, no big deal. QUEEN, the best band ever, with the Beatles/Stones permission, went through the same stuff. Strange Americans, Bowie sang he was afraid of them…
Later efforts showed no signs of recovery, mostly due to lack of sheer quality when compared with this first strike. An A+ hard rock, sleaze, a massive voice, rhythm, piano, Hammond, you name it. And that was it. Or not maybe, cause Spike, gipsy soul too, has decided he is no quitter, and since 1995 he keeps recording and touring with the reborn rockers, humbler, but proud as they should, on a mission. He accepts a new rule in a new rule, and it means the world to the rest of us. The voice keeps furiously fun to listen. Attending a Quireboys show goes hand in hand with "hey, do not expect me to arrive any time soon tonight, I am hanging out with the boys for some beers, I might be back, or not". In fact, if you ever enjoyed. FASTER PUSSYCAT, DOGS D'AMOUR, or ALMIGHTY, this band must have a place in your metal heart.
And the formula remains funnily the same. NOT MODIFYING ANY FORMULA. They keep playing the same 90s bluesy hard rock about lost love, bar fights, beer, pubs, etc… Lately the effort seemed to be dropping a huge song in a mostly flat record, as with  MONA LISA SMILE in HOMEWRECKERS & HEARTBREAKERS, or more or less achieved ones like  JULIANNE in BLACK EYED SONS.
And so this is 2016, and TWISTED LOVE we find. Stylish DAY OF THE DEAD paraphernalia, Mexican, catrinas, etc… QUIREBOYS are in such a limbo on their own where they happily keep producing endless music of they one you like. It is up to you to keep enjoying them or discard them as a "mature" decision (It could be understandable too, not wise, but understandable). Because… Will you miss the amazing Hammond in the brand new LIFE´S A BITCH? Or the Stones vibe of TORN & FRAYED, a song straight from Jagger and Richards. Because make no mistakes, this band had it all to make it big and the fact that they did not make it does not mean they do not have the ingredients to produce a massive song. They can entertain an audience.  I find myself 30 years after first encountering them jumping with the harmonica cords. GHOST TRAIN is a fantastic bluesy piece. Spike mentions in interviews that for this record he wanted to write different approaches to the lyrics, but you will not tell. And that is good for you. It is pure QUIREBOYS. Keith Weirs here rules. KILLING TIME turns up the volume, this one being the hardest rockish one in the record. TWISTED LOVE is a well oiled mid tempo, a bar full of smoke vibe about it…a great effort.  BREAKING ROCKS misses the target, not a high point for me. Heavy, hard to digest. GRACIE B (PT II), offers a powerful bass, unique what this band offered all through his lifetime. STROLL ON is a flat out blues song. You might see KEITH RICHARDS chainsmoking while gently paying the chords next to BUDDY GUY.
SHOTGUN WAY will bring SEX PARTY memories with a devilish riff, and such powerful nostalgia will settle in. MIDNIGHT COLLECTIVE wraps up in bluesy style (along with two bonus, WIN SOME, LOSE SOME, and a extended version of TWISTED LOVE).
Great news for sleaze and hard rock lovers of that 90s music is Spike keeping at it, since this new record from your favorite gipsies shows as a very good option to cheer you up with some nice guitar riffs, an amazing voice, melodies of broken hearts and beers in a pub night.
Band:
Spike: voice
Guy: Guitar
Keith Weir: Organ
Paul Guerin: Guitar
Nick Mailing: Bass
Dave Mcluskey: Drums
Tracklist:
1.Torn and Frayed
2.Ghost Train
3.Killing Time
4.Twisted Love
5.Breaking Rocks
6.Gracie B, Pt. 2
7.Life's a Bitch
8.Stroll On
9.Shotgun Way
10.Midnight Collective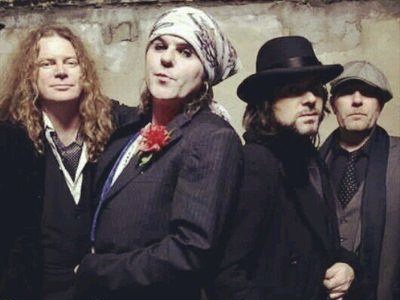 Written by Butch