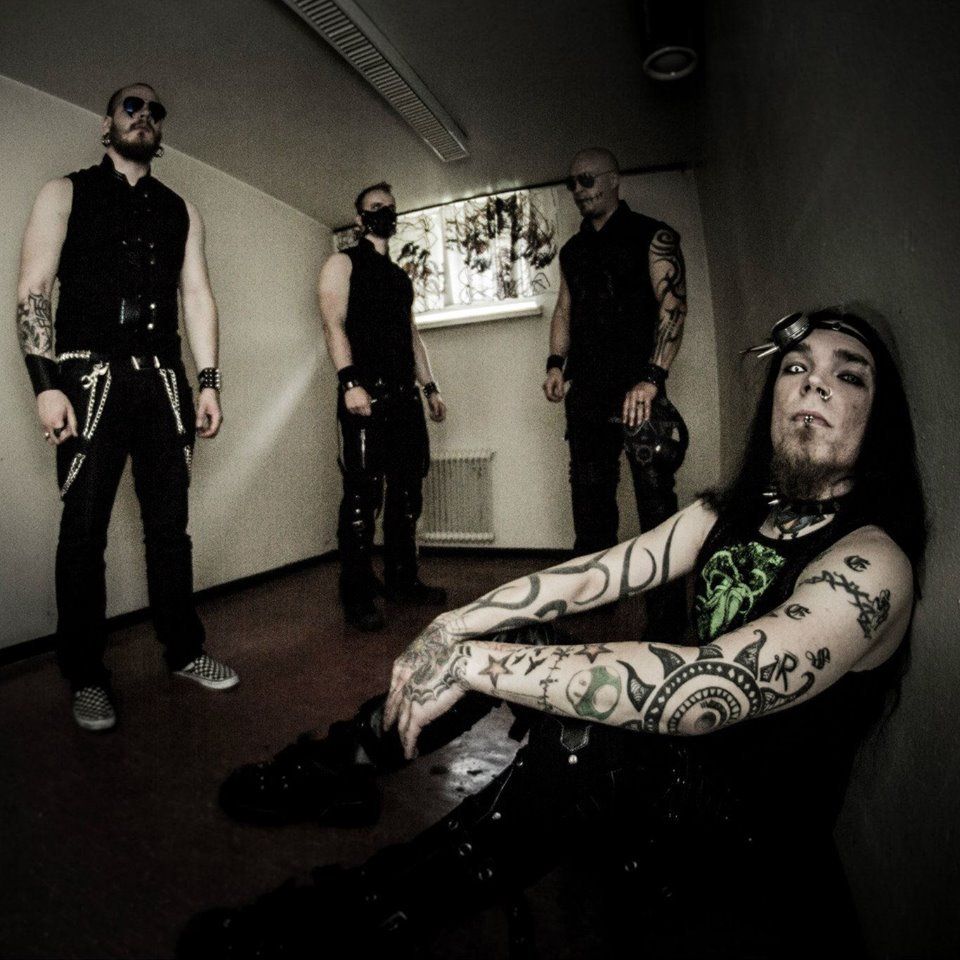 "I listen a lot of different kind of music, all the way from 70's progressive stuff to raw black metal and everything in between so my personal influences as a songwriter are pretty wide"
By Hombre Rancio
Hello Friends, Today I have the pleasure to talk to Electric Deathbeat  , a Band from Finland. "» Dead Echo Paranoia» is the name of their album, dark and very strong debut.
Hi guys, let's talk a little about the beginnings of the band. ¿How was  Electric Deathbeat created?.
Cheers mate and greetings from Finland! Electric Deathbeat was born in 2011 as a project of mine. It was around 2014 when I decided to gather these talented guys around me and let the machine burst with full force ahead.
"Dead Echo Paranoia " is your new Album, ¿what are we going to find in it?.
Well, Dead Echo Paranoia is a pretty many-sided album for my opinion in every way, aggressivity meets melancholy. Catchy metal with a diverse vocal stuff.
¿How was the design and creation process of the album?.
The whole process went through very smoothly, album tracks were written somewhere between June 2014 and January 2015. It's always such a relief to hear the final version, the burden's gone in a good way and you're able to start all over again with creating new stuff, I love it.
In your opinion, ¿which are the stronger points of the band?.
I think that everything starts from our chemistry between members, it's something that you really could die for, 'cause we've got two pair of brothers here playing together and having fun in a same band. Also I personally feel that we've got something unique stuff in some way in our hands, though we're not here to invent the wheel again but our versatile style combinated with our strong presence in stage, I feel that these are the points which I'm really proud of at least.
¿What are your musical influences?.
I listen a lot of different kind of music, all the way from 70's progressive stuff to raw black metal and everything in between so my personal influences as a songwriter are pretty wide, I think that it can be even heard well in our songs.
My Favourite Song is Coal Dust Tears, ¿what is yours?.
In a matter of fact, Coal Dust Tears was the last song that I wrote this album, I'm pretty excited it for myself also. It has got a pretty strong lyrical story within, it's a point of view against this surrounding society, which ain't got much future for my opinion. But if I have to pick one other song, it would be the song «Dead Echo Paranoia», there's something in it, typical Finnish melancholy embraces with aggressive lunacy, intro and the c-part also contains some pretty perverted throat singing from J.T.H. Big salute to the throat singers in Mongolia.
¿What themes do you touch in your lyrics?.
Lyrics are very important thing to myself and I like so to speak do some playful hide and seek with them. Main themes are coming from the things around this polluted world we're living and I might say that I don't write fictional stuff, there's always somekind truth beneath the surface.
I listen your album, and I like very much the work of the programming and synths, Its very dark. A great atmosphere. ¿What do you think?.
Yeah, synths are extremely powerful instrument, it can be used to create emotionality and yet some strong melodies and solos. I usually start the writing process with synth or either with a guitar or bass.
Electric Deathbeat, mixed several Styles: Dark Rock, Industrial, Groove, Metalcore, Groove, Gothic… very great. ¿What musical direction would the band want?.
I can reveal, that the successor for Dead Echo Paranoia is in pretty good shape already and there surely are the same Deathbeatish elements, but a little more..should I say, boosted with rocking stuff also, catchy and big choruses, versatile vocal styles and the aggressivity is there of course.
I see in you tube Live Shows of the band. Very aggressive I like very much.  The band play one day in Spain? I think that your music like very much in my Country.
Thanks, it would be awesome to perform in Spain for sure. Let's see if we can manage that in near future. We are really enjoying being on stage as a band and I can't personally get the exactly same kind of feeling from nowhere, the feeling when the grand adrenaline rush hits you in the face with a force of million hammers, it's phenomenal!.
¿How do you see the current scene of the  Underground in your country?.
Nowadays, I ain't unfortunately got so much time to search new bands like before, but I think that we've got pretty awesome bands and individuals coming time to time. The whole scene is going more professional way, all these youngsters got so much talent and ambition, it's great.
¿ How can the fan get your album?.
Digital form of Dead Echo Paranoia can be found from iTunes, Spotify, Deezer, etc. Physical edition is coming in few weeks also, so we'll let you know then, where you can order it. Other merchandise is coming also soon, shirts and stuff. These can be ordered from our website then.
¿What are your future plans?.
Well, as you have might noticed that we signed with Italian ALPHA & OMEGA Management lately, so now we've got a really professional and experienced team around us and naturally our goal is to get to perform worldwide of course. Also we are working hard to get our second full-length accomplished and out next year already. Can't wait for you to hear these new Deathbeatish tunes!.
Thank you very much and congratulations for your great work. If you wish to add something, go ahead…
We want to thank you for this interview! Cheers! Ladies and gentlemen, check us out!