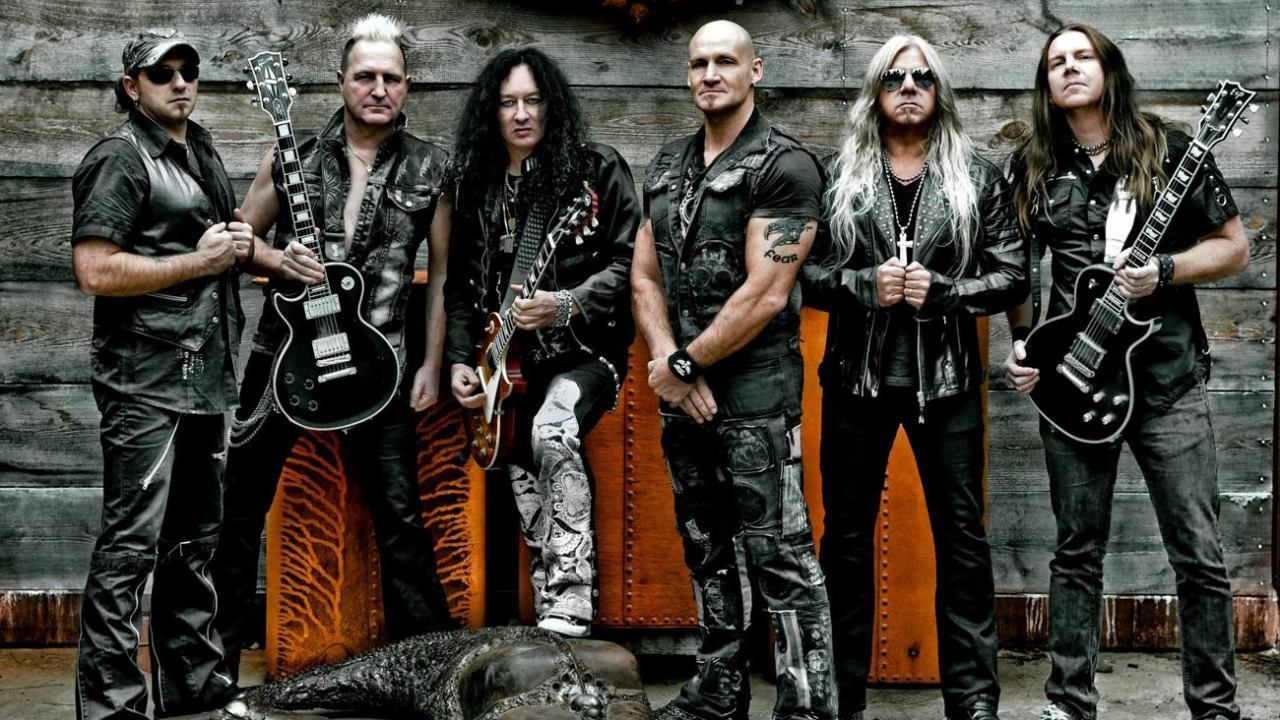 "Puedes esperar de Primal Fear lo que representa. Heavy Metal alemán!!!"
Por Pol Metalhead
Nos contesta Ton Naumann (guitarrista). En estos momentos estáis a punto de sacar nuevo disco con Primal Fear llamado "Rulebreaker". ¿Cómo ha sido la grabación y composición del álbum?.
Right now we are about to release a new album called Primal Fear «Rulebreaker» How was the recording and composition of the album?.
El registro fue muy fácil. Grabamos las baquetas en Dinamarca, las guitarras en Suecia y Alemania, el bajo y las voces en Alemania. Todos estábamos bien preparados para la grabación por lo que fue rápida y nos divertimos muchísimo.
The recording went very smooth. We recorded the drums in Denmark, the guitars in Sweden and Germany, the bass and the vocals in Germany. We were all well prepared for the recording so it went quick and we had a lot of fun.
¿Qué nos podemos esperar de este nuevo trabajo de Primal Fear?.
¿What we can expect from this new album Primal Fear?.
Puedes esperar de Primal Fear lo que representa. Heavy Metal alemán!!!. Golpeando batería y el bajo, gritando guitarras con ampollas, grandes guitarras y encima, lo mejor, que tenemos la sensacional voz de Ralph.
You can expect what Primal Fear stands for. German Heavy Metal !!! Pounding Drums and Bass, screaming guitars with blistering guitar leads and on top of that we have the sensational voice of Ralf.
El 5 de Febrero comenzáis la gira de presentación del disco , justamente en mi ciudad Barcelona, ¿Qué podemos esperar de esta nueva gira de Primal Fear?.
On February 5, you begin the tour to promote the album, just in my city Barcelona, what can we expect from this new tour of Primal Fear?.
Puedes esperar una mezcla de viejas canciones de todas las épocas de Primal Fear y un montón de nuevas canciones del próximo álbum. Será un setlist fresco con las canciones favoritas de Primal Fear y muchas canciones nuevas.
You can expect a mixture of old songs throughout the period of Primal Fear and a lot of new songs from the upcoming album. It will be a cool setlist with the fave songs of Primal Fear and headcrushing new stuff.
Ahora Primal Fear sois una banda con tres guitarristas al frente. ¿Cómo fue la idea de tantos guitarristas para el directo?.
Primal Fear Now, you are a band with three guitarists in front How was the idea of so many guitarists to live?.
La cosa es que Magnus (Karlsson) no tiene tiempo para girar tanto tiempo. Así que me preguntó si podía hacer todo el tour para el último disco (Delivering the Black). Después del último show se me pidió reincorporarme como miembro de tiempo completo. Así que vamos a tener tres guitarristas en el álbum, pero en vivo, en el escenario, veréis a Alexander Beyrodt y Tom Naumann triturando las seis cuerdas!!!!.
The thing is that Magnus (Karlsson) don`t have the time to tour so much. So I was asked if I could do all the touring duties for the latest album (Delivering The Black). After the last show I was asked to rejoin as a fulltime member. So we will have three guitar players on the album but live on stage you will see Alexander Beyrodt and Tom Naumann shredding the Gnis.
Lleváis 2 grandes bandas teloneras Brainstorm y Striker, bandas con unos directos impresionantes. ¿Cómo surgió lo de llevar estas bandas para abrir vuestros shows?.
You carry 2 large opening bands Brainstorm and Striker, bands with impressive direct, How did you bring these bands to open your shows?.
Sabemos de los de chicos Brainstorm durante mucho tiempo y ya hicimos una gira juntos hace algunos años. Somos buenos amigos y vamos a tener un montón de diversión juntos. Y de Striker no mucho, pero vi algunos videos en la red y sé que os gustará mucho. Buena música Metal. Creo que este paquete traerá buena música en los escenarios de Europa.
We know the Brainstorm guys for a long time and we already did a tour together some years ago. We aregood friends and we will have a lot of fun together.I didn`t know Striker, but I saw some vids on the net and I like them. Good Metal music. I think this package will bring some good music on the stages of Europe.
Primal Fear surgió de una explosión de bandas a mediados de los 90' bautizada como Metal alemán, curiosamente muchas de estas bandas ya no existen pero Primal Fear aquí sigue. ¿Cuál es el secreto?.
Primal Fear came an explosion of bands in the mid-90 'dubbed "German Metal", interestingly many of these bands no longer exist, but here follows Primal Fear What is the secret?
En primer lugar Primal Fear tiene un gran número de seguidores. Tenemos fans de todo el mundo y tocamos en todos los sitios que podemos .Esa es una parte importante de toda la historia de Primal Fear. También todos somos buenos amigos, salimos en nuestra vida privada juntos, tenemos los mismos intereses e incluso con nada que tiene que ver con la música, todos los integrantes de la banda tenemos una muy buena relación.
First of all Primal Fear has a huge following. We have fans worldwide and we play worldwide. That is a important part of the whole Primal Fear history. We also are good friends, we hang out in our private life, have the same interests and even with the member not longer in the band we still do have a good relationship.
Primal Fear es una banda que viene mucho a tocar a mi país (España). ¿Os gusta tocar aquí , que pensáis del público español?.
Primal Fear is a band that has a lot to play for my country (Spain), You like to play here, that you think the Spanish public?.
Barcelona es una de mis ciudades favoritas en Europa. Un lugar con estilo y gente increíble. Cada vez que estamos de gira nos gusta alojarnos en España y especialmente en Barcelona. También nos gustan los fans españoles. Aficionados españoles son muy leales y las chicas son hermosas.
Barcelona is one of my favorite cities in Europe. Amazing place with flair and amazing people. Everytime we are on the road we really enjoy staying Spain and especially in Barcelona. We also love the spanish fans the country. Spanish fans are very loyal and the girls are beautiful.
En el ya pasado 2015 , tocasteis en un festival español el Rock Fest en Barcelona , ¿Tendremos nuevamente a Primal Fear en un festival español en el 2016?.
In the past since 2015, you played on a Spanish festival Rock Fest in Barcelona Will we again to Primal Fear in Spanish festival in 2016?.
El Rock Fest de Barcelona fue una gozada. Nos lo pasamos muy bien allí, conocimos buenos amigos y bandas increíbles. Hay conversaciones para volver al Rock Fest, pero no estoy seguro de si esto va a suceder en el 2016.
Rock Fest Barcelona was a blast. We had a great time there, met good friends and amazing bands. There are talks to return to the Rock Fest but I am not sure if this will happen in 2016.
En Abril embarcáis en una gira por Estados Unidos. ¿Cómo está la escena del Heavy Metal actualmente por allí?.
In April you will embark on a US tour, how is the current Heavy Metal scene there?.
Estamos muy ansiosos de ver como está el Rock por allí, en abril y mayo en los EE.UU y Canadá. La última vez que lo hicimos nosotros, Canadá fue un viaje muy fresco y ahora tocaremos en sedes y estadios más grandes. No puedo decirte exactamente cómo está la escena Metal por allí, porque no vivimos allí, pero cuando tocamos allí tenemos algunos grandes fans de con mucha pasión y el corazón lleno de Metal.
We are really looking forward to rock the stages in April and May throughout the US and Canada. The last time we did US/Canada was a very cool trip and now we will play bigger venues and stages. I can not tell you exactly how the Metal scene does look over there, because we do not live there, but when we play there we have some great fans over there with a lot of passion and a heart full of Metal.
Vuestro primer single "The End Is Near", es una potente canción de puro Heavy Metal. ¿Cuál es el tema que más te gusta del nuevo disco?.
Your first single «The End Is Near» is a powerful song of pure Heavy Metal, what is the theme that you like the new album?.
Me gusta «The End Is Near«. Canción de gran alcance con un gran riff y la interpretación vocal increíble. Otra canción favorita es "Angels of Mercy". Mirando hacia la gira tocaremos estas canciones en vivo. Vamos a tocar un par de nuevas canciones del próximo álbum. Así que será muy difícil elegir las canciones que vamos a tocar en vivo porque hay tantas buenas canciones en el álbum….
I like "The end is near". Powerful song with a great riff and amazing vocal performance. Another favorite song is "Angels of mercy". Looking forward to play this songs live. We will play a couple of new songs from the upcoming album. So it will be very difficult to choose the songs that we will play live because there are so many good songs on the album.
A mi algunos de los temas que más me han gustado son la que abre el disco "Angels of Mercy" y sobre todo una de las mayores composiciones que haya hecho nunca Primal Fear, "We Walk Without Fear", un corte de más de 11 minutos de duración. ¿Cómo fue lo de sacar una canción tan larga y con tantos cambios de ritmo?.
To me some of the issues that I really liked is the opening track «Angels of Mercy» and above all one of the greatest compositions ever made Primal Fear «We Walk Without Fear», a topic of more than 11 minute, how was it to take such a long song with many changes of pace?.
«We Walk Without Fear » es una canción increíble!!!!. Metal épico con una gran cantidad de sentimientos diferentes, los cambios de tiempo y una gran actuación de la banda. Algunas veces todo se junta, que te encuentras en el estado de ánimo adecuado y obtener las ideas y simplemente fluirá fuera la magia en tus dedos.
"We walk without fear" is a monster track. Epic Metal with a lot of different feelings, tempo changes and a great performance from the band. Sometimes if all comes together you are in the right mood and get the ideas and it will just flow out of your fingers.
¿Cuáles son tus mayores influencias, guitarristas, bandas …?.
What are your biggest influences, guitarists, bands …?.
Oh!!!!. Hay tantas bandas y guitarristas que influyeron en mi forma de tocar. Judas Priest fue una gran influencia debido a ellos empecé a tocar la guitarra. Y escuchar diferentes tipos de bandas y música, es tan difícil escoger una banda especial……Como guitarristas nombraré a Brad Gillis, Paul Gilbert, Steve Lukather, Neal Schon, John Sykes……..
Oh there are so many bands and guitar players that influenced my playing. Judas Priest was a huge influence because of them I started to play guitar.I listen to different kinds of bands and music so it`s hard to pick a special band. As guitar players I would name Brad Gillis, Paul Gilbert, Steve Lukather, Neal Schon, John Sykes…
Bueno Tom , muchas gracias por la entrevista , ¿Te gustaría añadir algo?.
Take good, thank you very much for the interview, would you like to add anything?.
Gracias por apoyar a Primal Fear y Metal. Espero que os guste "Rulebraker" y comprar nuestro nuevo álbum. Nos vemos en la gira y que lo paséis lo mejor posible !!!
Thanks for supporting Primal Fear and Metal. Hope you will like and buy our new album. See you on tour. Be excellent to each other and party on.